Pinball Restorations: Backglass
Gottlieb Count-Down

Count-Down
"The marketing slogan for the game was 'Super Space Spectacular.' Rather lame as far as pinball slogans go."
Gottlieb Count-Down Backglass
The picture on the left below is before I fixed the spidering. It's a bit hard to see but in the right panel I have some better pictures of what the spidering looks like. The picture on the right is what the back side of the backglass looked like after the Triple Thick and the theatre gels were applied. It looks really good. Other than the spidering, this backglass was in tremendous shape.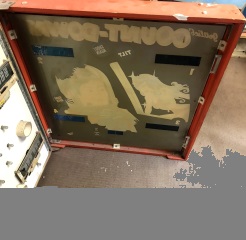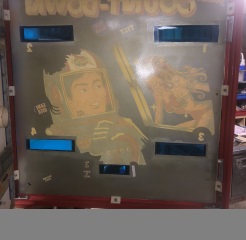 The pictures below show the backglass from the front: one with the lights off and one with the lights on.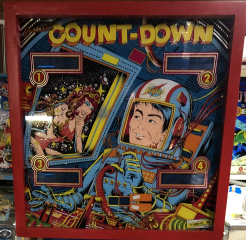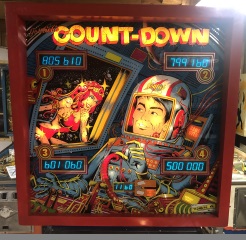 On the left below is the rear of the machine after the repaint and polishing the vents. The two pics on the right below show the condition of the rear before the restoration. Note how awful the rear of the cabinet looked. This game was definitely moved around on its "rear end" quite a few times.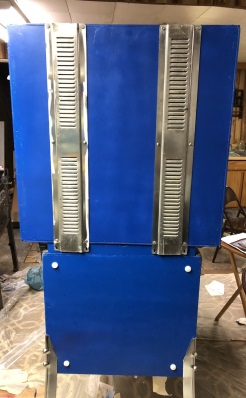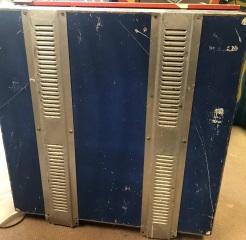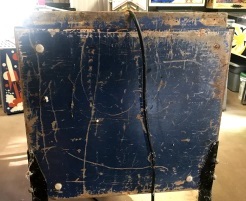 Theatre Gels
Below is the packaging of the theatre gels I used for the score windows and then a piece of theatre gel that I have cut for placing on the score windows.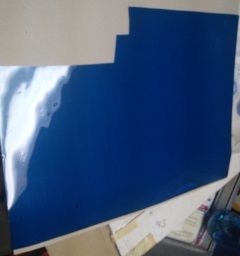 Score Window Progression
Below are pictures of the score windows. The first two pictures show the Player 1 and Player 2 score windows and the spidering that has taken place. Almost all Gottlieb games from this era did this.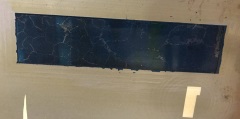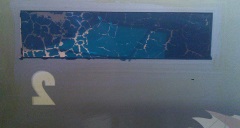 Below is a score window after I have scraped the blue off with a chisel point exacto knife.
Below is the Player 3 score window after the theatre gel has been applied. Works great and looks good from both the front and back.