Machine Statistics
Production Date: November 1979
Production Run: 11,000 units
Design: Greg Kmiec
Artwork: Paul Faris
I haven't had time to create the pages for this machine yet. Below are some pics of my restoration that will have to suffice until I can get the full write up uploaded. This game was in the best overall shape of all the games I had. I didn't do a cabinet re-paint. Instead, I just touched-up the cabinet. I removed the mylar on the playfield and touched up a few spots. The biggest thing I did was fix a stupid operator hack and install a light strip behind the tube.
I have to tell the story of what the operator did to the saucer that is fed from the tube shot. This is a great example of how some operators don't have a clue about pinballs. First, some information about how the bottom saucer is used in the game.  The bottom saucer is one of the keys to the game.  When a shot is made up the right ramp, it enters the tube, goes across the playfield and lands in the lower saucer. This saucer advances the "Mota Value" each time a ball enters.  Also, when a player enters the top saucer three times, it lights the lower saucer to lock a ball.  Then, once a ball is locked, if a ball is hit up the ramp, one ball is released from the saucer while the other ball is locked.  Then, when a player gets the ball into the top saucer three more times, multi-ball is started. Well, when I received the game, the bottom saucer was filled in with nuts and bolts, covered with a thin piece of wood, which was then covered with duct tape.  Thus, when a ball was hit up the ramp, it rolled over the saucer and out the gate. Thus, one could never advance the "mota" value or ever achieve multi-ball.  What a stupid fix. I wish I had taken a picture of it in this condition, but I didn't think of it at the time.
The reason the operator did this was that the coil for the bottom saucer kick-out was locked on. This was caused by a shorted transistor on the solenoid driver board. Instead of replacing the transistor, the operator disconnected the coil, taped the wires together to keep current flowing to other coils, and then covered the saucer on the playfield. If he treated all of his pins this way, I'm sure he didn't make much money on them. No wonder pinball is dying.
Backglass and Front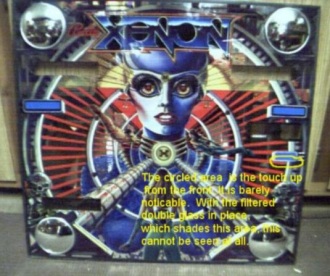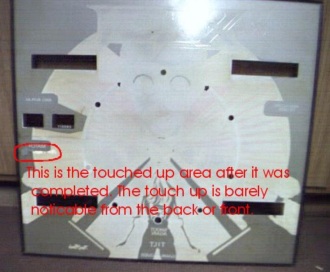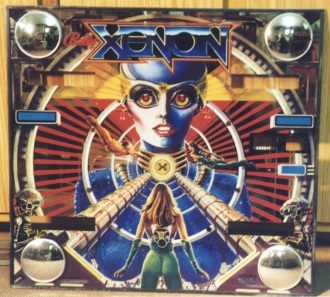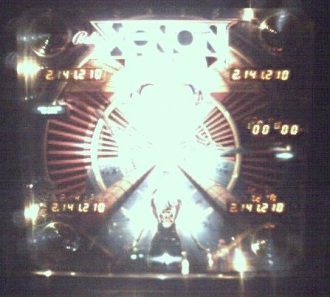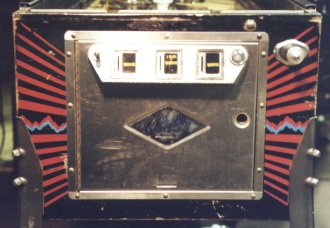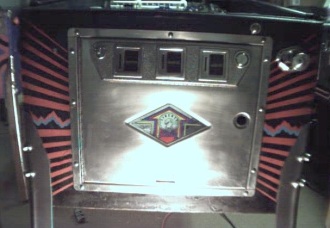 The cabinet was in good shape and only needed a few touch ups as opposed to a full repaint. I polished the coin door and added a new Bally sticker.